Refrigerator Water Filters Reviews 2021
by
Dr. Jonathan Doyle
- Updated December 15, 2020
Part of caring for your family is ensuring our cups have clean, safe, and fresh-tasting water. The refrigerator water dispensers make it simple to access clean water. Many people ask the question: Do fridge water filters really work?
Before you take into consideration including one to your refrigerator, it is necessary to understand the essentials to make sure that you make an informed choice. This article will certainly help you to figure out whether this type of filter is suitable for you or not, and you will also learn the tips to pick the right one.
How Does Refrigerator Water Filter Work?
When water is not purified, it may consist of a range of contaminants, such as lead, chlorine, rust and sediment. Refrigerator filters help to get rid of these to ensure that you are not consuming them in your drinking water.
Many fridge water filters have activated carbon inside of them. This carbon functions comparable to a magnet, drawing in the impurities and trapping them within the filter. The water that undergoes the filter is cleaner and free of impurities.
To guarantee that your filter is risk-free and also working effectively, it is necessary to replace it regularly. If a filter gets clogged with contaminant bits, it will not be an effective filter and can allow impurities through right into your drinking water.
The refrigerator filters are generally reliable at getting rid of chlorine, radon, manufactured chemicals, unpredictable organic chemicals and benzene. However, no filter is perfect, as different water filters are designed to remove substances for different water needs. The majority of fridge filters provide some protection against the following:
Arsenic
Beryllium
Chromium
Fluoride
Nickel
Sulfates
Barium
Cadmium
Copper
Mercury
Selenium
Thallium
Base on where you live, these heavy metals as well as inorganic compounds might not be found in your water. However, if they are, a reverse osmosis filter would be a good solution as it provides the highest water purification accuracy.
Why Do You Need to Replace Your Refrigerator Water Filter Regularly?
As we mentioned before, refrigerator filters use activated carbon as a filtration media to filter out contaminants. However, carbon has a limited capacity. The water may taste fine, but the filtration performance cannot be the same as many pollutants are tasteless. The longer you hold to change a filter, the worse your water will be.
Besides the risks as discussed in the video for discounted filtration performance, here are several additional dangers if you don't change the filter on a regular basis.
Shorten the refrigerator's service life
Just like hazardous chemicals can have an effect on our bodies, they can also affect our refrigerators. Failing to replace your refrigerator's water filter can lead to scaling and also deposit accumulation in the water and ice maker, which can seriously wreck your fridge. This build-up tends to slow down the system, leading to low water flow, and negatively affects the taste of your water. The service life of the refrigerator will therefore be shortened.
Bacteria growing inside the filter
When the carbon reaches its capacity, it no longer can absorb the particles and other living organisms. The filter thus becomes a Petri plate for bacteria and raises health concerns of the drinking water.
How Often Should You Replace Your Refrigerator Water Filter?
Depending on the source water conditions, the refrigerator water filter needs to be changed every six months. Additionally, this recommendation of six months is generalized to relate to the ordinary quantity of water the average individual consumes in an average family.
That notwithstanding, there are models and also suppliers around whose refrigerator filters vary extensively in terms of the amount of gallons they can securely manage. Some fridge filters require to be altered as quickly just like 200 gallons of water, while others last for up to 750 gallons.
Establishing just how much water you utilize from your refrigerator can require a little work, once again it might deserve it given the prospective advantage of discovering a nice fridge water filter for your household's demands. One prospective exercise to uncover this info shows up listed below:
Assign each family member a glass for the day.
Establish the number of ounces each glass holds.
Ask each member of the family to discount every glass of water they consume alcohol.
Make notations for the amount of water utilized for food preparation.
Add the overall amount at the end of the day and extrapolate that moving forward.
If your household undergoes, for instance, 3 gallons of water on an ordinary day, after that you might wish to take into consideration a refrigerator water filter that can take care of a higher volume. That's since a 200-gallon filter will shed its performance within 60-- 70 days, or a far much shorter time period than six months. That would certainly mean that your family would be consuming potentially infected water for approximately 4 months without realizing it. Furthermore, this would leave you with 2 choices:
Purchase a brand-new refrigerator water filter every 2 months; or
Purchase a refrigerator water filter that has a much higher quantity capability.
How to Choose A Water Filter for Refrigerator
Generally speaking, a refrigerator will have a useful life of anywhere between 8 and 10 years, although it's hardly uncommon for units from all manufacturers to last much longer than that depending on how they've been used and other factors. Therefore, if you have an older refrigerator, it may make things more difficult when it comes to adding a fridge water filter. Below are four ideas to keep in mind as you move through this refrigerator filter progression:
Is your refrigerator compatible?
As mentioned above, most refrigerators should last around a decade before showing signs of age. If yours is older, it's possible that it's not even compatible with a refrigerator water filter. If not, then you obviously need to think about a different approach to filtering water into your home or office. If so, you should still see what filters are compatible with your existing model. You can do so by simply doing a search online with your refrigerator model number.
How efficient is your refrigerator?
This may be a consideration that at least loosely coincides with age, but you'll also need to consider how efficient your refrigerator is these days before adding another function to it if you don't already have a fridge filter. That's because if it uses a lot of energy or it struggles to maintain its basic functions, adding this task to its daily requirements may be too much for it to handle. Once again, take a close look at how your refrigerator is running before adding anything else to its output requirements.
Is it near a water line?
Then you need to look at the simple setup of your refrigerator before deciding with finality on whether or not you can add a fridge water filter. These days, most refrigerators in modern kitchens are set up in relative proximity to the sink, but that's not always the case. Some layouts have the refrigerator on the other side of the room, and in office settings a refrigerator can be placed almost anywhere. If your refrigerator is not near your incoming water line and you're not able to reach it, then this is not the approach that's going to work for you if you're unable to move that refrigerator closer.
Do the filters have certifications?
Finally, you would like to check the certifications for the refrigerator filters. A check for official
NSF product certifications
that pertain to water filtration standards. Companies voluntarily submit product samples for NSF testing and verification. NSF 42, NSF 53 and NSF 401 are dealt with together as the core standard of the industry: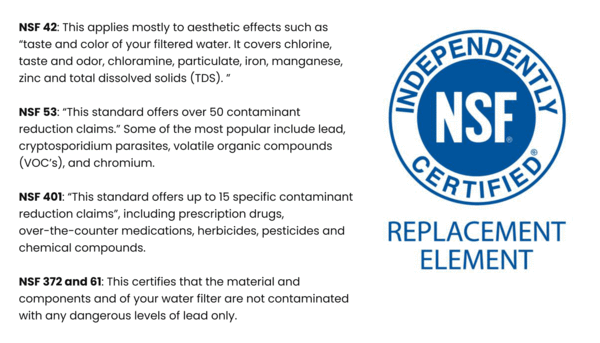 As you can see, NSF 42 is one of the most fundamental certifications for clean looking as well as great tasting water. Depending upon your neighborhood water quality, this may be adequate. For many urban or industrial areas, NSF 53 is advised and additional NSF 401 is a safe choice.
How to Replace a Refrigerator Water Filter
Step 1: Find your fridge's water filter
Try to find the filter off to one side of the top fridge area, or behind the trim plate in between the flooring and also the bottom of the fridge door-- a favorite hiding place for Whirlpool side-by-side. If you have a built-in, it may also behind the service panel on top of the appliance. It's an unusual feature to find the filters on the bottom-freezer, but some refrigerators do have designs like that. Learn more about
how to find the refrigerator model number
here.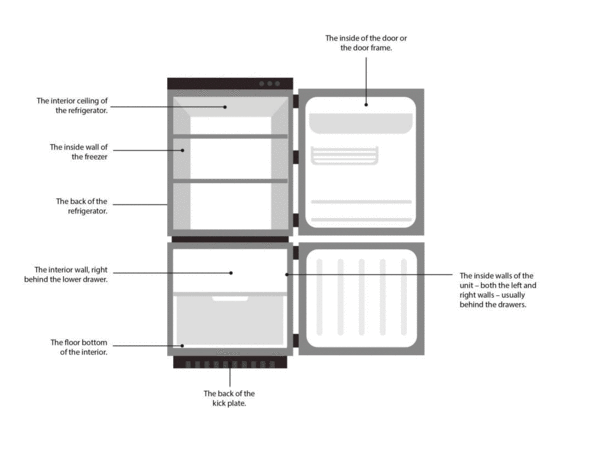 Step 2: Remove the filter cover if there's one
This should be an intuitive step. Some twist off, some have tabs you squeeze, some have an eject button.
Step 3: Remove the old filter
Depending on the make and model of fridge, firstly, you may need to swing the old cartridge out of its port. After that, either draw it right out of the housing or spin it counterclockwise, then pull it out. Check the packaging of the replacement cartridge so you don't need to presume-- you do not intend to risk damaging one of the plastic parts.
Step 4: Place the new filter
Put the new filter right into the housing; it ought to lock in place. If you had to turn it to remove it, you'll need to turn it clockwise to seat it in position.
Step 5: Flush out the filter
Dispense about two gallons of water to remove air and also pollutants from the waterline. You can utilize it to sprinkle your plants.
If your fridge has an indication to transform the filter, bear in mind to reset it. You ought to benefit regarding 6 months.
Refrigerator Water Filters Review 2020
At Waterdrop, we're most interested in having as many people as possible across the world have access to and consume pure, healthy water. That's what motivates us to come to work every day, so in all honesty, we're not that interested in putting out a list of "rankings" for the best refrigerator water filters of 2020. That's because any rankings anyone puts out are going to be inherently biased and subjective when deciding which model should be number one vs. number two and so on.
Instead, we'd like to offer a list of a handful of fridge water filters that we think offer high levels of quality and performance so that you can take a closer look at them and decide which one would be fit for you and your family or colleagues. After all, the best refrigerator water filter for one household may not be the same as another.
Frigidaire EPTWFU01 Water Filter
Frigidaire offers several different fridge water filters, and if you choose that brand you should do so based on what type of refrigerator you have in your home. The EPTWFU01 Water Filter is known for its ruthless ability to eliminate problematic substances in tap water, and it enjoys tested certification with NSF for standards 42, 53 and 401. That means that above all else, you can rest assured that when you choose this refrigerator water filter, you're going to be drinking water that's all but completely purified every single time. That's often the main factor for people who are searching for the best refrigerator water filter for their individual needs.
Samsung Genuine DA29-00020B Refrigerator Water Filter
The Samsung Genuine DA29-00020B is another model that's known for its consistency and its ability to deliver pure and tasty drinking water. As is the case with the higher-end models in this market, this unit can handle cleaning water successfully for up to six months or up to 300 gallons of water before needing replacement. It's also been widely reviewed as a filter that consistently delivers tasty and clean-looking water and ice cubes, which is important, as people are not going to use a fridge filter if they simply do not like the resulting water. This model usually retails for approximately $50 - $55, so it is a bit on the expensive side when compared to other filters.
EveryDrop by Whirlpool Refrigerator Water Filter 1
Some people have trouble deciding whether or not the best refrigerator water filter for their needs, based on their research, is one that's going to fit their existing fridge. You probably won't have that worry with the EveryDrop Water Filter 1 by Whirlpool, as it's the only model that the manufacturer certifies as proper replacements for high-end and high-selling refrigerator brands such as Whirlpool, Maytag, KitchenAid, JennAir, and Amana. That's important, as no one wants to order fridge filters, wait for them to arrive, open them when they get there and then find out that their filters are not going to work. The only somewhat negative feedback with regards to this model from consumers is that it is a bit expensive, but at around $50 per unit, it doesn't seem out of line with its competitors to us.
The Waterdrop Refrigerator Filter
Yes, we offer fridge water filters to the public, so yes, we have a vested interest in making sure that people are introduced to our line of products. It's also true, however, that we are convinced that our Waterdrop refrigerator filters are among the best on the market these days, so our place on this list is more than proper. Check the Healthy Kitchen 101's
Best Refrigerator Water Filters in 2020: Buying Guide and Reviews
for detailed reviews on Waterdrop filters. Most of our refrigerators filters are tested against all NSF/ANSI 42&53&401&372 standards, meaning the filtration performance meets the industry leading standards.
Our
refrigerator water filters
are made from natural coconut shell activated carbon material with micro pores that trap problematic substances in your water. They are compatible with most refrigerators on the market and they are extremely affordable, with our models usually selling for less than $50 even when they are not on sale.
Samsung
Compatible Models: Samsung DA29-00020B, HAF-CIN/EXP, DA97-08006A/B, DA29-00019A, Kenmore 46-9101, RF28HMEDBSR, RFG298HDRS, RS25J50, RF263TEAES, RF4287HARS. Please check the full list below for more details.
Compatible Models: Samsung Aqua-Pure Plus DA29-00003G, DA29-00003B, DA29-00003A, HAFCU1, DA97-06317A. Please check the full list below for more details.
Whirlpool
Compatible Models: Everydrop Filter 4, EDR4RXD1, 4396395, 469006, Maytag UKF8001, PUR Puriclean II, Kenmore 46-9005, 46-9006, 46-9992.
Compatible Models: Whirlpool 4396508, EveryDrop EDR5RXD1, Filter 5, Kenmore 46-9902, Pur W10186668, Maytag 8212652.
GE
Compatible models: GE SmartWater MWF, GWF, HDX FMG-1, GSE25GSHECSS, WFC1201, RWF1060, 197D6321P006, Kenmore 9991.
Compatible models: GE XWF. Selected GE French Door and Side-by-Side refrigerators manufactured after June 2018. Applicable to models starting with GBE21, GDE21, GDE25, GFE24, GFE26, GNE21.
LG
Compatible models: LG LT1000P, LT1000PC, LT1000PCS, ADQ74793501, MDJ64844601, Kenmore 46-9980, 9980.
Compatible Models: LG LT700P, ADQ36006101, ADQ36006102, Kenmore 46-9690, LFCS31626S, LFD20786SB, LFD22786SB, LFX21976ST, LFX25976SB.
Compatible Models: LG LT500P, 5231JA2002A, ADQ72910901, Kenmore GEN11042FR-08, 46-9890, ATAG AK100V, 6572447, 88009234.
Compatible Models: LG LT800P, ADQ73613402, ADQ73613401, ADQ73613402, ADQ32617801 ADQ73613403, ADQ32617703, ADQ72910901, Kenmore 46-9490.
How Waterdrop Can Help
As you can see above, finding the a nice refrigerator water filter for your specific situation is an exercise in subjectivity and specificity. Everyone is different, which means that every refrigerator is different, every use of every refrigerator is different and every level and type of water consumption in a home or office is different. What you need to do when looking for a fridge filter that will work for you is take a bit of time to make sure that you're doing the right thing, that you're moving in the right direction and that ultimately, you're making the right decision.
If this all seems like it's simply too much to think about considering the potential fallout from drinking contaminated water, then we want to be sure that you understand that we're here to help you. We don't just offer Waterdrop refrigerator filters to our customers, but instead we offer a
whole host of products
from leading manufacturers. To reiterate, that's because we want to be sure that we're doing everything we can to get as many people as possible drinking and using clean, pure water.
If you're unsure of how you should proceed, then you need to take a few minutes to contact our team of experienced professionals. We'll be happy to walk you through the decision process, to help you make a final choice and to explain anything that may not seem clear to you on the surface. We understand that most people are not chemists and they do not work at water treatment plants, so we're here to serve as your resource both now and into the future. Please
contact us
today so we can make sure you start enjoying pure, clean water as soon as humanly possible.
Most Frequently Asked Questions
1. How to find my refrigerator water filter model?
First, remove your water filter from your refrigerator and check the model number printed on it. Then you can search for the model number on our website and buy it!
2. What signs show that my fridge water filter is bad?
If your water filter for fridge indicator light comes on, or the water and ice taste odd, or the filtered water is cloudy, then you may need to replace a new Waterdrop fridge water filter.
3. How often should I replace my refrigerator water filter?
Basically, a refrigerator water filter serves a life of 6 months. This means, you should replace the fridge water filter every six months but also depends on how much water you use in your daily life and the model number of your filter.
4. Does the refrigerator water filter really work in my fridge?
Waterdrop fridge water filters can remove 97% of chlorine, bad taste, odor, rust, corrosion, sediments, and turbidity. Drinking filtered water without harmful substances can do good for your health.
5. Can my refrigerator work without a fridge water filter?
If your fridge has an extra part called a bypass plug, your refrigerator may work without installing a water filter. But for safety and your health, we don't recommend bypassing the fridge water filter.
6. Where to buy a Waterdrop replacement fridge water filter?
Our website provides the Waterdrop replacement of refrigerator filters with low price and good quality, you can choose the filter according to your fridge model.
7. What happens if I do not change my refrigerator water filter?
If you do not change your filter for a long time, scaling and deposit may buildup in the water and ice machine, which can seriously damage your fridge. And drinking water with harmful substances can also damage your health.
8. What happens if my fridge water filter is clogged?
Your water dispenser could become slow. Even if you change the filter on time, your water filter could be clogged with elements building up in the tube. Once your water dispenser becomes slow, maybe it is time for replacing a refrigerator filter.
9. Is it harmful to drink water filtered from old filters?
An expired refrigerator water filter can no longer filter the water. Harmful elements like bacteria can build up in the filter tube which will damage the health of drinking water and your health. So remember to replace your filter on time.
10. Does fridge water filters affect the ice maker in the refrigerator?
If your refrigerator water filter is clogged or damaged, the filtered water slows down or stops flowing. Then your ice maker will also stop working or the ice could taste odd. So it is important for you to replace the water filter for fridge on time.
11. Can I clean my fridge water filter for reuse?
We recommend replacing a new fridge water filter. Because if you choose to clean the old filter, it is more difficult for users to check whether the filter has been expired. But if your filter has already expired, after dumping all the debris from the old tube, the filter may no longer good as it used to be. This filter can no longer remove harmful substances, residual chlorine, lead, heavy metals, and other substances in the water. So we recommend replacing a new fridge water filter on time, this way is more convenient and faster.
12. How can I recycle my old fridge water filter?
First, you need to call your filter's manufacturer to make sure if the filter can be recycled. Basically, if it can be recycled, you only need to follow the guidance of your manufacturer.
13. Do all refrigerators have fridge water filters inside?
Most of the refrigerators have a water filter. Generally, you should replace the water filter on time. Our website provides Waterdrop replacement fridge water filters, which you can buy according to your refrigerator model.
14. Why is water cloudy after changing a new fridge water filter?
After replacing a new filter, there may be some air remaining in the corners of your filter housing, which may lead to cloudy water. You can flush them out by turning the water on for 10 minutes.
15. Does Waterdrop have replacement fridge filters for other brands?
Waterdrop has replacement fridge water filters for the following brands: Samsung, Whirlpool, LG, GE, Maytag, Kenmore, Amana, Electrolux, Everydrop, Fisher&Paykel, KitchenAid, including many hot models like 00020B, MWF, XWF, RPWF, UKF8001, LT700P, LT1000P, etc.
16. Why my fridge water filter leak?
If your refrigerator water filter is leaking, here are the most typical reasons for a fridge leaking water from the filter: Inaccurate filter installation, filter head is harmed or broken, the filter housing is broken or the filter is expired.