King Tank VS Alexapure Water Filters: Which Gravity Water Filter You Should Get?
by
Dr. Jonathan Doyle
- Updated May 12, 2022
Most homeowners rely on the safeguarding capabilities of water purifier products to protect the health of their drinking water. These devices are standard features in new and renovated houses. Some young parents also go as far as installing water purifiers for newborns and mothers—all of these points to how essential water purifiers can be to our quality of life.
There are several types, models, and forms of water filtration systems out there. Choosing the best out of the lot can be a challenge. That is why we have created this guide – to help you decide between the Waterdrop King Tank and its competition. If you are going to choose the best water filter system for your domestic use, then you need all the facts and figures you can get.
You can also read more on gravity-fed water filter systems here.
Waterdrop King Tank vs. Alexapure Water Filter
Again, pitching your tent with just one water filter system out of hundreds will never be an easy decision. It becomes even more difficult if you are trying to decide between the Waterdrop King Tank and Alexapure. Both options are top-performing stainless-steel gravity-fed water filters.
Let's start by looking at the primary features of both water filtration systems while highlighting the differences and similarities.
Comparison Chart
| | |
| --- | --- |
| | |
| Waterdrop King Tank | Alexapure |
| • Capacity: 2.25 gallons | • Capacity: 2.25 gallons |
| • Material: 304 Food-Grade Stainless Steel | • Material: Stainless steel construction |
| • Carbon Filter Life: 6,000 gallons | • Carbon Filter Life: 5,000 gallons |
| • Starting Price: $249 (including accessories) | • Starting Price: $279.95 |
| • Spigot: water level sight spigot | • Spigot: not water level sight spigot |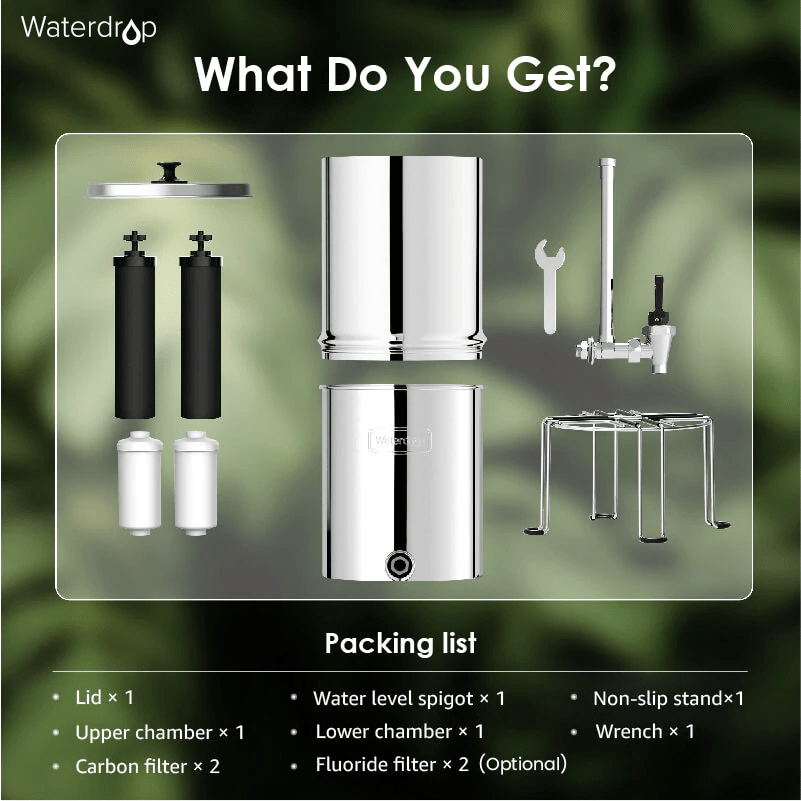 Performance Comparison
The Waterdrop King Tank is the better performer of the two.
You can rest assured of consistent top-level filtration performance from the King Tank gravity-fed water purification system every time. As part of the filtration process, it removes up to 98.95% of chlorine and 98% of fluoride from your source water. It also reduces foul odor, taste, sand, soil, rust, sediment, heavy metals, and other impurities.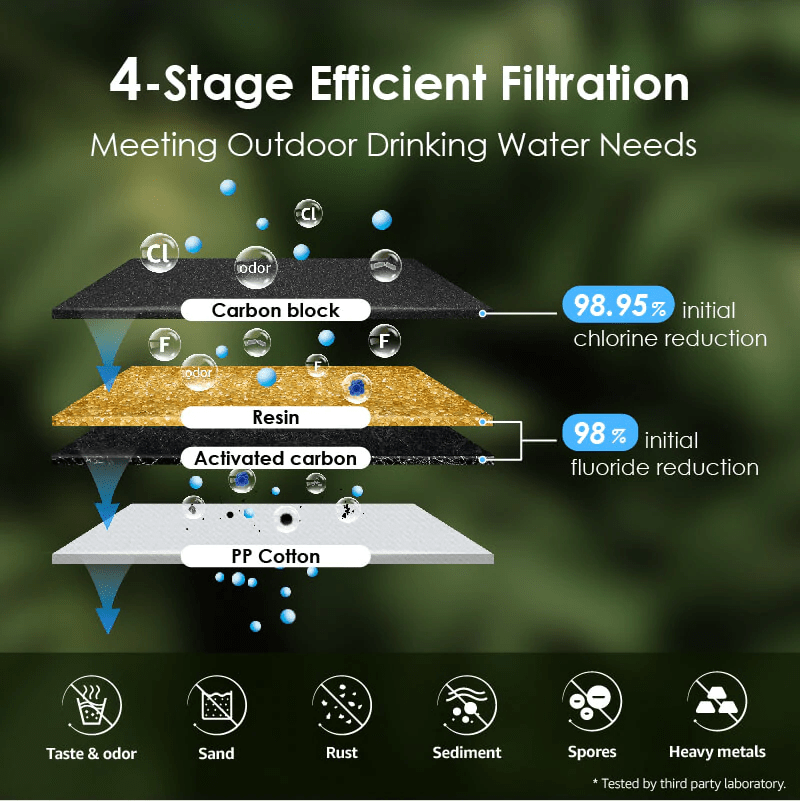 There is an option to buy the additional white filter, which works alongside the black filter. The white filter combines food-grade fluoride reducer, resin, and granular activated carbon with BPA-free housing. Different from those Aluminum Oxide media filters, a Waterdrop filter could provide you with better-tasted water.In the end, you are left with clean, safe, and great-tasting water for your household.
Cost Comparison
You will be spending slightly more money on the Alexapure Pro than the Waterdrop King Tank.
Cost is another essential factor to consider when deciding between top water filtration systems. Despite having a longer filter lifespan, the Waterdrop King Tank is somewhat cheaper than the Alexapure Pro. The King Tank is expected to last about a year more than the Alexapure Pro system if both filters deliver an average of three gallons of filtered water daily.
Let's estimate the cost of both water filter systems over 6,000 gallons.
Alexapure currently costs $249.95 in the current market and can deliver up to 5,000 gallons conveniently. You will require an extra filter to deliver the additional 1,000 filters, costing $199.95.
Therefore, the total cost needed to filter 6,000 filters would be $369.90, translating to about three gallons of water daily at 6.1 cents for every gallon.
The Waterdrop King Tank
If you are wondering what features set the Waterdrop King Tank apart from the competition, we have outlined a few below:
Extended Filtration Capacity
The Waterdrop King Tank gravity-fed water purification system has a 2.25-gallon large filter capacity, which means it will effectively meet the water requirements of even a large family, both outdoors and indoors.
Free Water Level Spigot
The metallic water level spigot in the King Tank stainless steel gravity water filter is more advanced than the competition. You can easily keep track of the water level with the help of the metallic water level spigot in the lower chamber. The more precise design also ensures a perfect fit and zero leaks.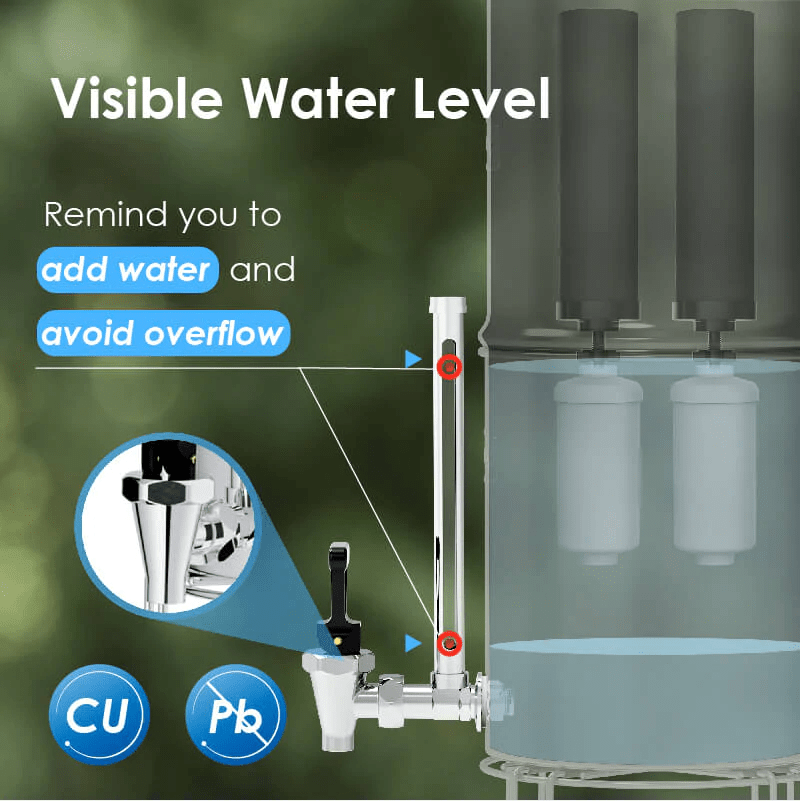 Accessories Set
The King Tank water filter comes with various accessories, including;
One pc lid
One pc upper chamber
One pc lower chamber
Two pcs carbon filter
Two pcs fluoride filter
One pc wrench
One pc water level spigot
One pc non-slip stand

304 Food-Grade Stainless Steel
Your safety is guaranteed with the King Tank gravity-fed water filter. It sports a stylish and modern design made from the deep drawing technique. In addition, only 304 food-grade stainless-steel material was adopted for the housing design, eliminating joints and making the entire system rust-proof and even more durable.
Extended Service Span
You want to get the most life out of your water filter system. With the King Tank, you get two carbon filters (black) out of the box, both delivering up to 6,000 gallons of filtered water. That means you are saving up to 45,000 (500ml) plastic bottles. You are not only protecting the environment but also getting healthy drinking water for less.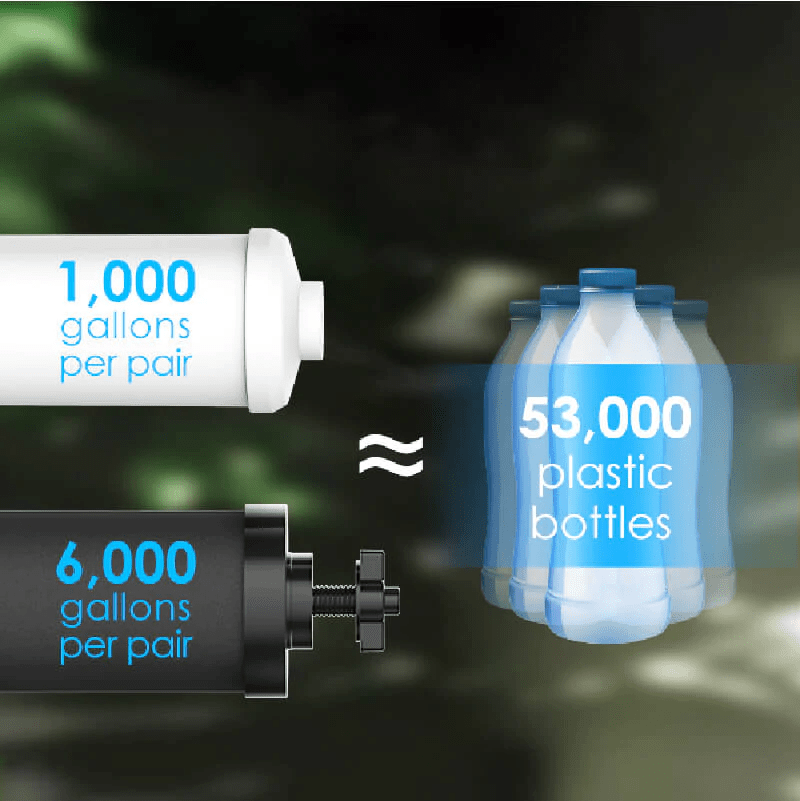 Gravity Water Filters Explained
Gravity water filters are filtration devices that rely on gravity to reduce contaminants or impurities in water. There are usually two chambers in the machine - the lower and upper chambers. The contaminated water goes into the upper chamber while the filtered water ends in the lower chamber.
Gravity filters come in really handy in situations where your quality of tap water is inadequate, or there are emergency water supply problems in your area. This is because these systems are designed to filter water without electricity - just gravity and they are good to go.
How Gravity Water Filters Work
As mentioned above, every gravity water filter has two main chambers arranged right on one another. The upper chamber is equipped with an element that effectively filters the impure water. The filter material in the upper chamber has microscopic pores that ensure the molecules of the impurities do not get through to the other side. Only the water molecules can go through the microporous element and into the lower chamber. The water you collect from the lower chamber is usually pure, safe, healthy, and ready for consumption.
How Do You Choose the Right Gravity Water Filter?
Having so many options also come with a disadvantage - choosing the perfect water filter system becomes more challenging than usual. You need to compare the best options closely and see which works best for you. We often advise intending buyers to focus on the filter quality, filter life span, flow rate, and tank capacity of any potential water filter they are considering.
In this section, we have outlined six major to ask to determine if a gravity water filter is right for you or not.
What Are the Contaminants It Can Remove?
You will hardly find a gravity water filter that cannot remove chlorine in the water. But that is not all; you can go a step further by shopping for filters that can also remove bacteria, heavy metals, fluoride, herbicides, pesticides, and other chemicals, in addition to chlorine. We also have a few gravity filters that soften and remineralize the filtered water.
What Is the Filter Capability?
The filtering capability of any water filter system is an indication of the quality of the filtered water it will produce. You should not buy a water filter that is ineffective against water from specific sources, especially wild resources. Instead, opt for gravity water filters that deliver healthy drinking water irrespective of the source water.
What Is the Filtration Performance?
Gravity-fed water filters are often rated by their filter element, which determines their filtration performance. The ideal filter element should effectively remove protozoa, cysts, and bacteria to the highest efficiency.
The amount of biological threats present usually determines the safety or purity of any drinking water. That said, the absence of biological threats in water does not make it automatically safe. There may be other impurities, depending on your location and the source water conditions.
What Is the Flow Rate?
Gravity-fed water filters, by design, work without any external pressure from the pipeline system conveying the source water. That is why they are often slower than other forms of water filters on the market. The wait time for filtration is longer with gravity water filters. For example, you may need to wait for seven hours to filter about six gallons of water with a gravity-fed water filter. This also depends on how many filters you have in the filtration system.
What Is the Chamber Material?
There are a few chamber materials you can find in a gravity water filter. The most common is the food-grade 304 stainless steel, often found in countertop water filters. This chamber material has anti-rust properties, protecting your water for as long as possible. The hanging of gravity water filters is made from silicone and plastic. We recommend choosing gravity filters made of food-grade or
BPA-free
materials.
Various Gravity-Fed Water Filtration System Types
Countertop Gravity-Fed Water Filtration Systems
The Waterdrop King Tank is a top option in this segment. It is an efficient countertop gravity-fed water filter that gets rid of harmful contaminants in your water. Interestingly, it does this while retaining the healthy minerals in the water, including magnesium and calcium.
This countertop system works perfectly without you having to connect it to your waterline. All you have to do is set it up on your counter with the filters in place, then add the contaminated water. It is easy to maintain - There is hardly anything else to do asides from replacing filters and rinsing out the water tank regularly. The new filters can be installed in a few seconds without any tools.
Outdoor Gravity-Fed Water Filtration Systems
An example of an outdoor gravity-fed water filter system is the Filterstraw. This filtration device is designed to do everything a personal water filter is expected to. Its flexibility means you can use it in different ways. For example, it works seamlessly with collapsible water pouches and gravity water bags. The two ends of a Filterstraw can be detached and linked to water bottles or water bags. All of these ensure you never run out of safe drinking water whenever and wherever.
Final Words
You cannot go wrong with either of the King Tank and Alexapure Pro gravity-fed water filter systems. The features in both devices are impressive. However, you will enjoy more benefits with the Waterdrop King Tank, including food-grade stainless steel housing, extended filter capacity, and a host of accessories out of the box. All of these improve the overall user experience for anyone using the Waterdrop King Tank.
Like most Waterdrop water filtration systems, the King Tank is a perfect blend of quality, performance, and a unique user experience.